MOTIVATION differences
Side-by-side
The 1-size-fits-all method SUPPRESSES MOTIVATION.
The Lead out method ACTIVATES MOTIVATION!
Three conditions are SCIENTIFICALLY proven
to ACTIVATE the DRIVE to LEARN
See Daniel H. Pink's 2009 book "DRIVE: The Surprising Truth About What Motivates Us" for a brilliantly summarizes these conditions:
Those three (3) conditions which activate the natural drive to create and learn are well understood.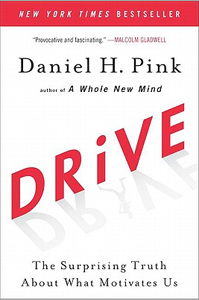 AUTONOMY
Not control. Not "Learn this. Now stop. Now learn that."
Autonomy
MASTERY
Mastery is a challenge, not TOO EASY, not TOO DIFFICULT, but JUST RIGHT, in the zone.
PURPOSE
A good reason to learn something,
or an inner interest in the subject.
The 1-size-fits-all method
SUPPRESSES ALL three conditions of motivation.
SUPPRESSES AUTONOMY
Students don't have autonomy!
Learn this. Stop. Now learn that.
SUPPRESSES MASTERY
It's 1-size-fits-all — BUT students are ALL DIFFERENT.
The challenges will be just right for some, but TOO EASY or TOO DIFFICULT for others.
Often students don't receive feedback in the form of test results, till weeks after the learning was attempted.
SUPPRESSES PURPOSE
Students wonder:
Why am I in school when I am listening to what I've already learned,
or listening to what I can't understand? What's the purpose?
The Lead out method
ACTIVATES ALL three conditions of the LEARNING DRIVE.
ACTIVATES AUTONOMY
By EDUCATING with psychology
it becomes safe to grant students more independence,
more autonomy.
ACTIVATES MASTERY
Students USE AUTONOMY to choose challenges
not TOO EASY, NOT TOO DIFFICULT, but JUST RIGHT, in the zone.
As testing is built into the process — accomplished with students helping each other — feedback is nearly immediate, further activating the condition of mastery.
ACTIVATES PURPOSE
Students realize they are succeeding — they are indeed learning!
In addition, they feel a profound satisfaction of realizing they are growing up,
personally powerful, responsible and able to contribute.
AS STUDENTS INVOLVE THEIR OWN INTERESTS
the powerful PURPOSE DRIVE is SUPERCHARGED.
School becomes a place to discover and pursue one's own interests and even dreams.